Artistry – Integrity – Professionalism
"A teacher should be a model of the highest standards of artistry and professionalism, inside and outside the flute studio."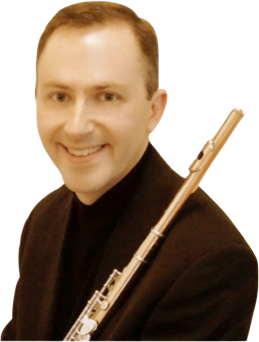 Dr. Sean Owen is praised for his rich, beautiful sound and impressive technique. He is a prizewinner of the 2004 National Flute Association Young Artist Competition and has performed at Carnegie Hall, Kennedy Center, and other venues throughout the United States and in Europe. Dr. Owen is a former member of the United States Army Field Band in Washington, DC and has served on the faculty of Grand Valley State University in Allendale, Michigan.

Owen has also performed with the Annapolis Symphony Orchestra, served as principal flute of the Heidelberg Castle Festival Orchestra in Heidelberg, Germany, and has toured with the American Wind Symphony Orchestra. He has performed at multiple National Flute Association Conventions and maintains an active performing schedule as a soloist, chamber player and orchestral musician.

Dr. Owen is a Nationally Certified Teacher of Music in Flute by Music Teachers National Association (MTNA). With 30 years teaching experience, he has worked with hundreds of young and adult flutists of all levels with an emphasis on individual excellence and personal achievement. Utilizing traditional style teaching methods, he cultivates an attitude of excellence in a positive atmosphere for learning and believes a teacher should be a model of the highest standards of artistry and professionalism, inside and outside the studio.

Music Teachers National Association, the oldest professional music organization in the United States, established the Professional Certification Program to improve the level of professionalism within the field of music teaching and help the public readily identify competent music teachers in their communities. To be designated a Nationally Certified Teacher of Music (NCTM), Dr. Owen has demonstrated competency in professional preparation, teaching practices, and ethical business management and has shown a commitment to lifelong learning.

Dr. Owen has served on the Executive Board of the Ohio Music Teachers Association Central East District and as Program Chairman of the Rochester Flute Association. In addition to serving as Editor for the Central Ohio Flute Association, Dr. Owen has served as Volunteer Coordinator for the National Flute Association Convention and is a past member of the National Flute Association's Online Technology Committee.

Dr. Owen received his Bachelor of Music degree in flute performance from the Eastman School of Music, where he studied with Bonita Boyd, and his
Master of Music degree from The Ohio State University, as a student of Katherine Borst Jones. He returned to Eastman for his Doctor of Musical
Arts degree where he taught undergraduate and graduate music majors and secondary students from both the University of Rochester and Eastman
campuses. His teachers include Bonita Boyd, Katherine Borst Jones, Richard Sherman, Joanna Bassett, Christopher Krueger, Heidi Ruby-Kushious, and Beth Owen. He has performed in masterclasses and studied informally with other legendary teachers and flutists, such as Paula Robison, Michele Debost, Julius Baker, and Robert Dick.